"I'm back, back in the New York groove!"
Well…kind of. Technically, it's more like the California groove due to winter break but for the past few months I've been living in the Concrete Jungle a.k.a New York City! (I've shamelessly listened to Empire State of Mind incessantly in preparation for my new life in the Big Apple). So… let's get straight to the elephant in the room, I've pretty much disappeared from the blog world for a few months but I'm ecstatic to immerse myself back into the cyber community and snap pics in the city like a classic & oh-so shameless tourist.
Anyways, my life has gotten so hectic over the months so I absolutely could not find time to get back into everything but hey, you gotta find that balance! In a nutshell, I'm attending New York University and needless to say, New York has definitely changed my perspective and evidently my style. Don't let my goody-two shoes blog design and its bubbly colors fool you! At times, I prefer opting for darker hues and an edgier style. I'd like to say the perennial favorite of black and emphasis on simplicity has influenced my style--Chelsea was a huge style eye-opener. Although I don't have the creds to casually address myself a New Yorker, the ambiance has increasingly transformed my fashion sense but I'll always be a California girl at heart.
Sorry for all this word vomit, I'm currently undergoing a tantamount explosion of thoughts in my brain. Guess that's what I get for progressively putting off my blog for later! So aside from all this catching up on my end, it's Christmas Eve & I still can't fathom the complete polar opposites of weather in New York as opposed to California. I kid you not, (for all of you who impressively trek through the frosty weather) I was unattractively sweating bullets while walking along the Devils Gate Dam bridge. I don't normally wear hats but I'm incredibly grateful I did. Otherwise I'm sure I would've gotten a lobster sunburn across my cheeks. Oh, the irony.
14th & Union St. Heels / Brandy Meville USA Envelope skirt / Michael Kors watch /Forever 21 spike bracelet, rings, collared shirt, floppy hat / Kate Spade satchel / Dogeared Necklaces
My wish list for Christmas tomorrow! I'm definitely cutting it close but a girl can dream! Keepin' my fingers crossed :)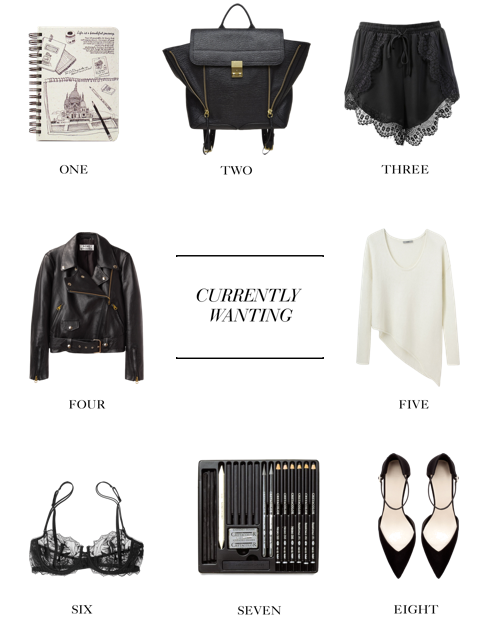 1. ARTBOX A4 Notebook / 2. 3.1 PHILLIP LIM Pashli Backpack / 3. BEGINNING BOUTIQUE Sparrow Shorts/ 4. ACNE STUDIOS Merci Leather Jacket / 5. HELMUT LANG Asymmetric Hem Pullover / 6. LA PERLA Venus Allure Bra / 7. CRETACOLOR Black Box Charcoal Drawing Set / 8. ZARA Basic Ankle Strap Heel
No commenting on my Rapunzel hair! Albeit the common perception of long, flowing hair, let me sadly inform you that it's definitely not as carefree and ethereal as it seems! I get my hair stuck on walls of elevators and my buttons and bags endlessly. So for 2014 I'm irrevocably getting a much needed haircut & donate it to Locks of Love---yet it's questionable if they'd accept ombre hair…
Anyways, as for my new style, black and gold has always held a special place in my heart. White and black may resemble 101 Dalmatians to weirdos like me, but it's undoubtedly a classic and uncomplicated choice when having a style brain fart in case of emergencies. Hints of gold in accessories and jewelry can sprinkle in some much-needed shine and tones of interest. After religiously drooling over blogs such as Song of Style and Fashion Toast, I knew that purchasing black pumps was needed and much delayed. I'm not exactly the most elegant and light-footed person in the world (I somehow manage to subconsciously pinpoint the deepest cracks and sporadic potholes). Nonetheless, I purchased a much lower heeled version that wouldn't murder my toes. To streamline my outfit, I opted for much thinner, delicate gold jewelry rather than a chunky statement necklace. I normally obsess over patterns and colors but I decided to relieve myself of my wardrobe which displays a spectrum of colors and floral prints. Remnants of my adoration for florals still managed to obstensibly work it's way through my outfit with my egg white laser-cut collar.
FUN FACT: They filmed Sky High on this bridge!
I hope you all have a magical Christmas Eve and Christmas Day! With tacky christmas sweaters, excessive desserts, flamboyant glittering presents and all :)