It's been a long time since I've updated my blog due to unfortunate events but I'm glad to submerse myself back into the blogging world with my ultra spring-ready outfit with flowers galore! Anything embellished with florals is my absolute favorite and I recently had a creative itch with Lynn and decided to go to Michaels to make some fab bows and I just had to buy some $3 flowers that I knew I could make into a crown. It's like déjà vu all over again!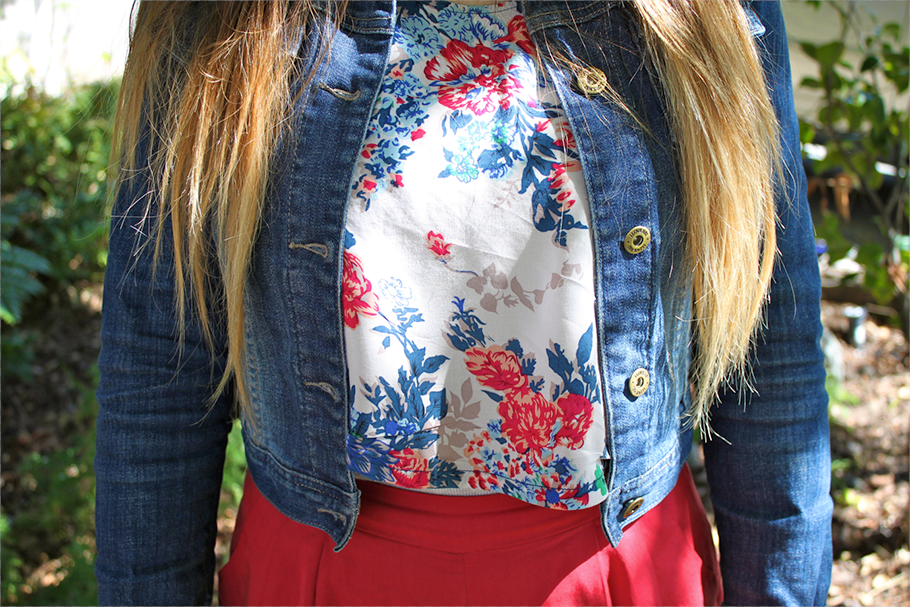 DIY Flower crown, gifted crop top, Coach sandals, F21 Jacket, Ka

itlyn shorts, F21 ring
Florals are a perennial favorite that will never cease to have a welcoming place in my heart. I adore how it can add such a whimsical touch to an otherwise drab look. So I knew that it was a given that I just had to wear my cropped floral top that was gifted with my DIY flower crown. Evelyn really needed to borrow my lacrosse stick so I had to drive all the way back home during the middle of 4th like a classic rebel and with 30 minutes to spare, I whipped out my DSLR that was progressively gathering dust when I saw the brilliantly blossomed flowers in my front yard.
My crimson red scalloped shorts reminded me of flower petals so it was only evident that I wear them. I coincidentally decided to wear my Coach poppy sandals due to the blazing weather and realized that I looked extremely patriotic especially with my denim jacket. Oh well! There's nothing wrong with showing a little american spirit now and then, right? (:
Tomorrow's going to be Toga day! It's this random tradition that our school does where we chant and wear inappropriately skimpy bedsheets so I'll be updating with photos soon :)
Have a beautiful day! xx