The sun is gleaming and it's perfect weather for picking dainty, flamboyant flowers and getting sun-kissed cheeks. If only I could hit the beach, but for now an ethereal, light-as-a-feather maxi skirt and flowers galore will have to do the job. After moving to a house closer up the mountains, I discovered a secluded hiking trail with a scenic backdrop for all my floral pieces (which pretty make up an overabundant portion of my wardrobe). So with my DIY dragon fruit pink crown in hand and chiffon pleated maxi, I decided to put on my Indiana Jones explorer hat and take an adventure.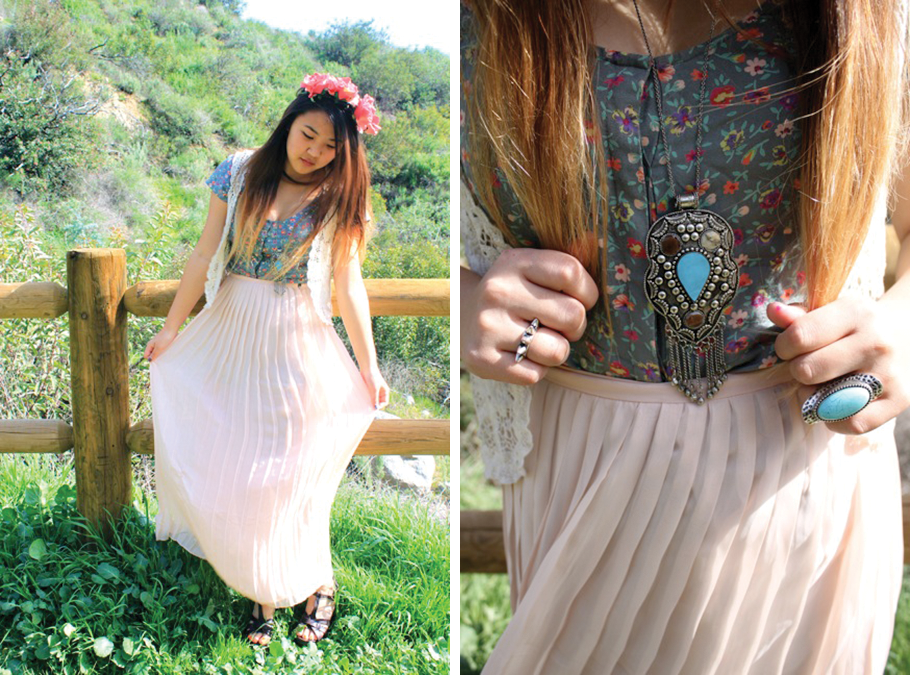 Wearing: Sparkle & Fade romper, Threadsence necklace, F21 heels, Sparkle & Fade maxi skirt, DIY flower crowns, Nordstrom lace vest, F21 rings
Short skirts--pleated, A-line, and circular--have always taken residence in my wardrobe. I've always been too intimidated to purchase a maxi skirt, but after receiving one as a birthday present, I instantly knew it served as a undeniable sigh of relief to my mundane closet. Due to my short, stubby legs, it was almost evident that pairing it with my chocolate brown sa

ndals was essential.
My lace vest and my sweet, chic romper with petite blossoms of a melange of colors added a livel

y and whimsical look. I
finish
ed
it off
with a romantic pink flower crown to add a hint of drama. After purchasing a handful of flowers from the LA flower market, I randomly felt an explosion of inspiration and made three flower crowns in lavender, rouge

, and flamingo.
I'm thinking about opening a shop in Etsy with all my random DIY items

but it's still a rough idea. What do you t

hink? (: